Battery Test and Repair near Houston, TX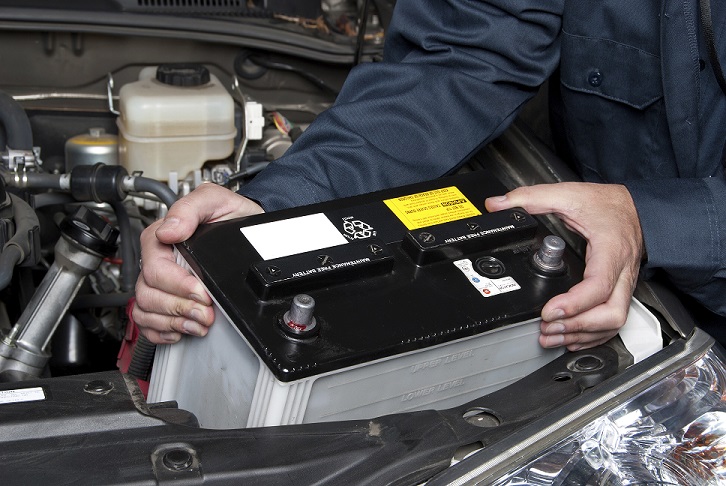 Making sure that you have that crucial spark to get your car up and running is an essential part of getting your day started on the right foot. Without a healthy battery, you won't be able to breathe life into your engine! That is why it is essential to pay our service bay a visit as soon as you get the chance to make sure that your current battery is operating at a healthy level. To schedule an appointment, give us at Honda of Tomball a quick phone call at 281-547-7157!
What are Signs of Battery Degradation?
You'll notice when your motivator starts to lose its life when you begin to experience telltale signs every time you hop into the driver's seat. You might hear sputtering noises when you try to turn your key in the ignition. This is your battery letting you know that it is having trouble getting started and that it isn't able to maintain the same charge that it used to. Another frustrating experience is if you have had to call friends or a family member recently to give you a jumpstart. Fortunately, a lot of vehicles in this day and age have a battery indicator that will illuminate on your dash, letting you know you need to swing by a service bay as soon as possible!
Timeframe
We at Honda of Tomball suggest eliminating warning signs completely, and swinging by for scheduled maintenance so you aren't subject to the hassle of having to get your vehicle jump started. There are a few factors that go into the erosion of your battery like the climate that you live in and your own driving style. With the intense heat that we experience here in Texas during the summer, your battery goes through a lot day in and day out to make sure you make it to your next destination in a timely manner. If you are constantly making short trips, then you are putting constant stress on it as well! That is why our team of mechanics suggest that you stop by our Service Department twice per year to make sure everything is running ship shape. You can also take a look at your Owner's Manual for a manufacturer's recommendation.
Tools
Before you schedule an appointment, we suggest that you navigate to our Battery Service Specials link located beneath the Service dropdown at the top of your screen. There, you will find the details about what what goes into a check and replacement along with our current deals that we have running! After that, if you still have some questions, you can always click on the Ask a Tech form to get in touch with one of our mechanics to voice your inquiry. Once we receive your submission, we will get back to you with a response as soon as possible!
Stop by Honda of Tomball for your battery test and repair near Houston, TX, today! We will get you in and out in no time so you can get back to what matters most when you visit us during our accommodating hours.
Service Hours on Sundays
Service Hours
281-547-7157
| | |
| --- | --- |
| Monday | 6:00 am - 11:00 pm |
| Tuesday | 6:00 am - 11:00 pm |
| Wednesday | 6:00 am - 11:00 pm |
| Thursday | 6:00 am - 11:00 pm |
| Friday | 6:00 am - 11:00 pm |
| Saturday | 7:00 am - 7:00 pm |
| Sunday | 7:00 am - 7:00 pm |
Testimonials
GOOGLE
12-11-2019
GOOGLE
12-11-2019
GOOGLE
12-8-2019
GOOGLE
12-7-2019
GOOGLE
12-7-2019
CRV EX 2019
EDMUNDS
12-7-2019
"Amazing experience did not have to wait at all was in and..."
DEALERRATER
12-6-2019
GOOGLE
12-6-2019
GOOGLE
12-6-2019
GOOGLE
12-6-2019
GOOGLE
12-6-2019
GOOGLE
12-6-2019
GOOGLE
12-6-2019
GOOGLE
12-6-2019
GOOGLE
12-6-2019
GOOGLE
12-6-2019
"Very friendly and helpful. Great experience. Staff..."
DEALERRATER
12-4-2019
"The Best Honda Dealership In Houston"
DEALERRATER
12-4-2019
GOOGLE
12-4-2019
GOOGLE
12-4-2019
GOOGLE
12-4-2019
GOOGLE
12-4-2019
YELP
12-4-2019
GOOGLE
12-3-2019
GOOGLE
12-2-2019
YELP
11-29-2019
GOOGLE
11-28-2019
GOOGLE
11-28-2019
GOOGLE
11-28-2019
Oil Change for 17 Civic
EDMUNDS
11-27-2019
GOOGLE
11-27-2019
GOOGLE
11-27-2019
GOOGLE
11-27-2019
GOOGLE
11-27-2019
GOOGLE
11-27-2019
GOOGLE
11-27-2019
GOOGLE
11-27-2019
GOOGLE
11-27-2019
GOOGLE
11-26-2019
GOOGLE
11-26-2019
YELP
11-25-2019
Read More